It Depends on your needs and the type of floor to cover; both have their own characteristics, advantages and disadvantages
Under the name of LVT (luxury vinyl tile), the new generation of PVC modular flooring has been making waves in the flooring market. It has been also the preferred option of consumers for years. But products such as SPC (stone plastic composite) is being introduced into the market. It can be hard to figure out which type of flooring is better for your project. If you hesitate between these two vinyl flooring, our comparison will guide you to make the best choice.
Differences between LVT and SPC (Rigid Board)
Construction
The LVT has a PVC core that makes it flexible and soft. This resilient of LVT can cause a better foot sense. The SPC (Rigid Board) has a Rigid Core without plasticizer, which gives it a better stability but less resilient feel.
Plank Thickness
The SPC (Rigid Board) tends to be thicker than the standard LVT. SPC (Rigid Board) vinyl flooring usually ranges from 5mm to 6mm, while the LVT will be 4mm or even less.
Appearance
Thanks for the Hot pressing process (calendaring), the LVT planks will have a realistic look, possible texture and a denser feel. The SPC (Rigid Board) planks may have a realistic look, but in terms of color fidelity, SPC (Rigid Board) flooring is slightly inferior to the LVT.
Subfloor
Both the LVT and SPC (Rigid Board) vinyl can be installed over plywood, cement and existing floors, but if your floor has dents or protrusions, the LVT flooring will take on the shape. SPC (Rigid Board) vinyl will not change shape as easily as LVT in this sense.
Installation
Both LVT and SPC (Rigid Board) are DIY friendly, but since the LVT is more pliable, so the cutting is easier than the SPC (Rigid Board).
Price
SPC (Rigid Board) vinyl is one of the more affordable options in the rigid core category, however, it will generally still be more expensive than a traditional LVT floor.
LVT vs SPC (Rigid Board) Vinyl Similarities
100 % waterproof
LVT and SPC (Rigid Board) vinyl are 100% waterproof. Spills and humidity will not cause any damage to these types of vinyl flooring.
Wild application
LVT and SPC (Rigid Board) vinyl are great flooring options for homes (bedroom, bathroom, living room, office, entrance, children's room and kitchen) and businesses like restaurants, cafes or shops.
Easy maintenance & cleaning
All vinyl flooring options are very easy to clean and maintain.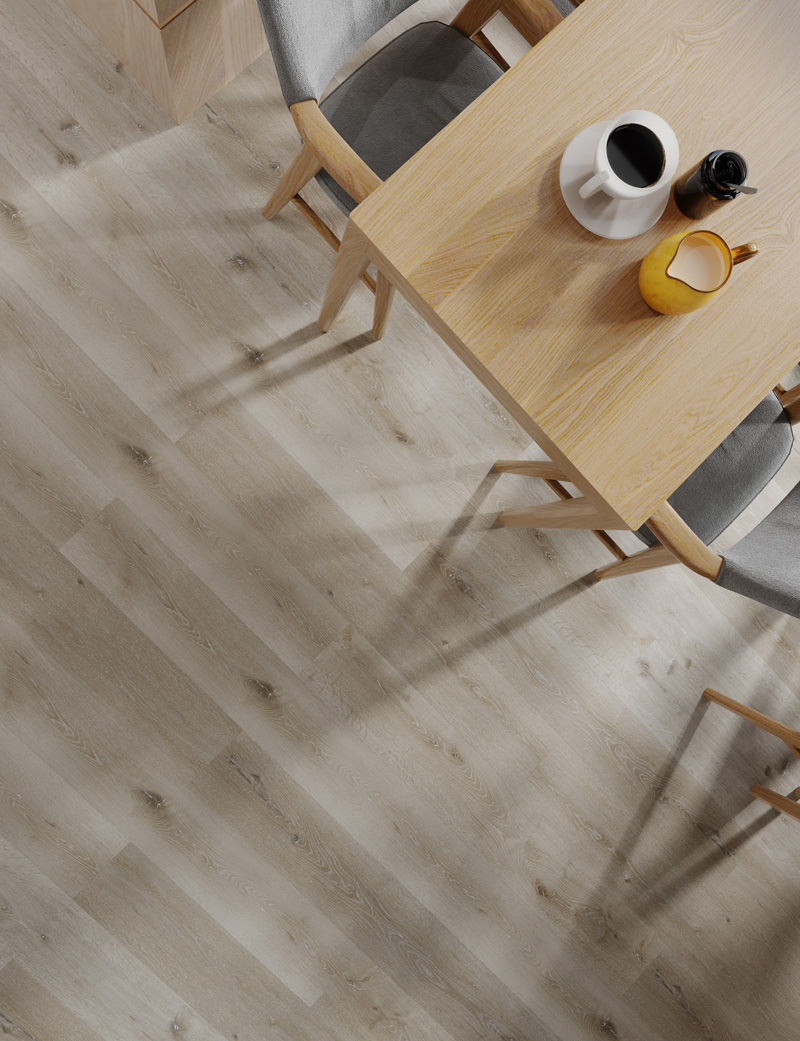 SMARTFLOOR Advices
LVT : widely used in the residential sector and small businesses. The irregularities of the subfloor are moderate.
Exposure to sunlight / heat should be limited. The Price is an important argument.
SPC (RIGID BOARD) : ideal for renovating premises with significant irregularities of subfloor. The rigid core gives improved technical performance in dimensional stability and punching. Exposure to sunlight is tolerated without localized bonding of flooring.
---
GENERAL CONSUMER products
LVT
SPC
SMARTFLOOR
C4030
SMARTFLOOR
C5055
SMARTFLOOR
S5403
Application
Living room, kitchen, individual office, bedroom, bathroom, laundry rooms
Living room, kitchen, individual office, bedroom, bathroom, laundry rooms, office, meeting room, public reception, the entrance, bar and dining room of hotel, small grocery stores, small shops in shopping center
Living room, kitchen, individual office, bedroom, bathroom, laundry rooms
Irregularity of subfloor
Moderate
Moderate
Important
Click system
L2C
L2C
L2C
Cutting
Easy
Easy
Moderate
Dimensional stability and curvature
Good
Good
Very Good
Punching
Good
Good
Very Good
Exposure to sunlight
Localized bonding
Localized bonding
-
Plasticizer
Phthalate free
Phthalate free
Phthalate free
Acoustic comfort
No noise and
no underlayer
No noise and
no underlayer
Integrated underlayer attenuates
the noise impact
Reduction of sound transmission
between floors
14 dB
14 dB
21 dB
Walking comfort
Very Good
Very Good
Good
Professionnals products
LVT
SPC
SMARTFLOOR
PC4030
SMARTFLOOR
PC5055
SMARTFLOOR
PS5403
SMARTFLOOR
PS6555XL
Application
Living room, kitchen, individual office, bedroom, bathroom, laundry rooms
Living room, kitchen, individual office, bedroom, bathroom, laundry rooms, office, meeting room, public reception, the entrance, bar and dining room of hotel, small grocery stores, small shops in shopping center
Living room, kitchen, individual office, bedroom, bathroom, laundry rooms
Living room, kitchen, individual office, bedroom, bathroom, laundry rooms, office, meeting room, public reception, the entrance, bar and dining room of hotel, small grocery stores, small shops in shopping center
Irregularity of subfloor
Moderate
Moderate
Important
Very important
Click system
L2C
L2C
L2C
L2C
Cutting
Easy
Easy
Moderate
Moderate
Dimensional stability and curvature
Good
Good
Very Good
Very Good
Punching
Good
Good
Very Good
Very Good
Exposure to sunlight
Localized bonding
Localized bonding
-
-
Plasticizer
Phthalate free
Phthalate free
Phthalate free
Phthalate free
Acoustic comfort
No noise and
no underlayer
No noise and
no underlayer
Integrated underlayer attenuates
the noise impact
Integrated underlayer attenuates
the noise impact
Reduction of sound transmission
between floors
14 dB
14 dB
21 dB
22 dB
Walking comfort
Very Good
Very Good
Good
Good